Water Heater in Olympia, WA
Does your Olympia Water Heater need Repair, Replacement or Installation?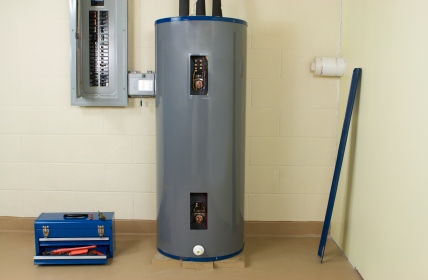 With so many companies offering to fix your water heater in Olympia Washington, it can be hard to make a decision. If you choose All About Rooter LLC, you can rest assured that you're trusting the job to competent professionals. We've been servicing water heaters in Olympia for 19 years.
Let All About Rooter LLC be your first name in Olympia water heater repair, day or night. Don't let your water heater woes stop you from getting a shower before work, or taking that relaxing bath at night. Call (253) 200-1643 anytime your water heater needs work.
All About Rooter LLC been servicing water heaters in Olympia for 19 years, so it doesn't take us long to pinpoint the problem and fix it. Sediment buildup is a common cause of many water heater problems, especially if you have hard water. It can cause the water heater to make loud popping noises, or give your water a foul "rotten egg" smell. If your water doesn't get hot, or takes too long to get hot, there's most likely a problem with your gas burner or electric heating element.
We didn't get to where we are today by cutting corners. We understand how important your water heater is to you. Without it, you can't bathe, wash dishes or do laundry. You can count on All About Rooter LLC to treat your water heater like it's our own. Don't take our word for it, just ask our many satisfied customers in the Olympia area.
With our years of experience repairing water heaters in Olympia WA, you can depend on us to get the job done right. When your water heater is up and running again, you'll be glad you called All About Rooter LLC to do the job. For your free quote, call us at (253) 200-1643 today!
---
WHAT CUSTOMERS ARE SAYING:
"Jose called me within minutes of my requesting service through home advisor and said he could come the next morning. He was prompt, courteous, and professional, a joy to work with. When he arrived he gave me an estimate based on his initial assessment of the problem. The price was extremely reasonable compared to MANY other plumbers I have worked with in the past. The clog was so compacted from too much food forced down the garbage disposal that eventually Jose had to go under the house and cut and replace a 7ft pipe. He thoroughly explained the extent of the problem and when he was finished replacing the pipe, he used a special camera that showed us how the water now flowed properly. I will hire him again for any future plumbing issues. I highly recommend him for any plumbing services you may have."
Lenore G., Drain Cleaning in Olympia, WA
---
"Professional, friendly, and efficient. Cost was reasonable. We had an emergency situation and they complied with our short-term appointment. They did need to come back out and re-tighten a couple of fittings, but the quality of work was good."
Francis M., Emergency Plumbing in Olympia, WA
---
"Very timely and effecient."
Plumbing in Olympia, WA
---
"Contacted through Home Advisor and he was here 2 hours later. Hired him to replace old water heater. Very professional, friendly. I will definitely use him again and happy to give referrals. Extremely impressed."
Beky B., Replace Water Heater in Tacoma, WA
---
Call for an Estimate
---