Commercial Plumbing in Graham, WA 98338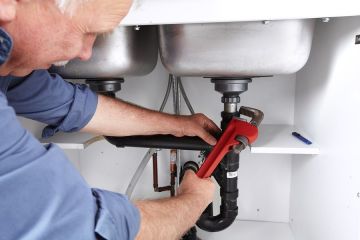 Looking for a reliable commercial plumber for your Graham property? Commercial buildings require as much or more professional plumbing services as residences. Commercial buildings often receive more "abuse" on their facilities than do residences. Hiring a skilled commercial plumber in Graham Washington doesn't have to be a challenge. All About Rooter LLC's commercial plumbers are hand-selected, fully licensed and thoroughly trained in the best commercial plumbing services in Graham. Give us a call today for a free quote!
---
Full Services Commercial Plumbers in Graham
Commercial properties face a multitude of plumbing issues. All About Rooter LLC is on standby to handle all of your Graham commercial plumbing needs. From clogged toilets and drains, to heating system failure and even regular maintenance programs, All About Rooter LLC provides reliable plumbing services for a variety of commercial clients, including hotels, restaurants, retail, medical facilities, offices, apartment and condo HOAs, and so much more.
Graham Commercial Plumbing Maintenance
Not only does All About Rooter LLC provide plumbing services at the times when you need them most, we also can keep your plumbing systems in top condition year round with our maintenance services. Preventative plumbing maintenance will keep your business flowing smoothly and help you avoid down time and higher costs of repairs and equipment replacement. We'll fully inspect your plumbing and heating systems and tailor our maintenance services around your specifications. Give us a call, and we'll be happy to discuss maintenance options.
---
Free Commercial Plumbing Estimates
---
WHAT CUSTOMERS ARE SAYING:
5 ★★★★★ - "10-28-16 Showers and toilets backed up. Jose said he would come out and called saying he would be there in 20 minutes. He was. Jose knew from experience where the plug would be, and where he had to dig for the outflow pipe (there was no riser). He found it where he said, dug, ran a power hose up the pipe and brought out some small roots, enough to stop paper. Jose then put a camera up the pipe and showed me all clear. He gave me a fair price and very proud of his ownership of the business. All equipment was clean and he wore a uniform of matching shirt, pants and hat with this business logo and name. Jose is now our go to person for drain issues, and recommended risers for easier cleaning."
Dave Manger in Graham, WA
---
"My pressure regulator valve needed replacment. Jose responded to the request within a couple minutes of posting and had it replaced the next morning. Quick service, very friendly and professional."
Randy A., Repair Main Water Pipe in Graham, WA
---
5★★★★★ - "We had a very positive experience with All About Rooter. Our tub faucet developed a major leak & we were able to schedule an appointment in a very reasonable time. Jose was very knowledgable. He quickly figured out the problem & fixed it. The cost was very honest & reasonable. If we need a plumber in the future we will call All About Rooter again. Highly recommended."
JMH in Spanaway, WA
---
5★★★★★ - "Jose came out at 7pm after already working a full day and stayed until midnight to fix our clogged septic line. He did everything he could but finally had to dig 3 feet down and 3 feet across in hard-pan to cut and clean out a section of pipe that had been improperly repaired in the past. My family thanks him and we highly recommend his work to anyone. He has skill and integrity."
Scott Newbern in Eatonville, WA
---
Call for an Estimate
---