Burst Pipe in Graham, WA 98338
Have you experienced a burst pipe in your Graham residence or business? Act quickly! Water damage from burst pipes will get very expensive very rapidly. First, shut off your water at it's source. Next, call All About Rooter LLC. The faster your response, the lower the cost of water damage sustained. All About Rooter LLC has worked with home owners and business owners in Graham with leaking pipes or burst pipes to contain the damage and quickly fix them.
---
Burst Pipe in Graham, Washington?
Call (253) 200-1643
---
Graham Burst Pipe Resolution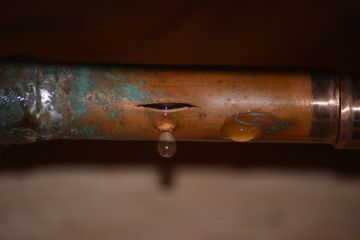 If you have experienced a burst pipe in your building, call the expert plumbers at All About Rooter LLC today. We have been repairing burst pipes in Graham since 1998 and ready to assist you as well. When you call (253) 200-1643 for a free quote to fix your burst pipe, you'll receive prompt service and a quick quote. The longer it takes to contain the leaking water, the greater the damages. Call All About Rooter LLC ASAP to fix your burst pipes!
Solid Graham Burst Pipe Solutions
Timing is everything! You need a company that will arrive promptly and quickly address the problem. If you have had a pipe burst, first turn off your water supply, then call (253) 200-1643 for a quick quote and sound solution. We'll find the cause for the broken pipe and determine the extent of the damage. Next, any necessary repairs or replacements will be made. Last, we'll be sure to make suggestions on how to best keep your piping clear of debris and corrosion to avoid burst pipes in the future.
Aging, Corroded Pipe Replacement in Graham
Pipes can burst from freezing temperatures or blockages caused over time. Contaminants cling to the insides of pipes, narrowing them and eventually clogging them and narrowing the water flow. When pipes become clogged, pressure increases until eventually the pipes leak or burst, spewing water in your flooring, walls, and other areas. If you've experienced a ruptured pipe, first turn off all water. Then call All About Rooter LLC at (253) 200-1643 for fast action to remedy the situation. We'll determine the source of the problem, and identify other pipes that may be compromised. Portions of the pipe will be replaced as needed.
---
WHAT CUSTOMERS ARE SAYING:
5 ★★★★★ - "10-28-16 Showers and toilets backed up. Jose said he would come out and called saying he would be there in 20 minutes. He was. Jose knew from experience where the plug would be, and where he had to dig for the outflow pipe (there was no riser). He found it where he said, dug, ran a power hose up the pipe and brought out some small roots, enough to stop paper. Jose then put a camera up the pipe and showed me all clear. He gave me a fair price and very proud of his ownership of the business. All equipment was clean and he wore a uniform of matching shirt, pants and hat with this business logo and name. Jose is now our go to person for drain issues, and recommended risers for easier cleaning."
Dave Manger in Graham, WA
---
"My pressure regulator valve needed replacment. Jose responded to the request within a couple minutes of posting and had it replaced the next morning. Quick service, very friendly and professional."
Randy A., Repair Main Water Pipe in Graham, WA
---
5★★★★★ - "We had a very positive experience with All About Rooter. Our tub faucet developed a major leak & we were able to schedule an appointment in a very reasonable time. Jose was very knowledgable. He quickly figured out the problem & fixed it. The cost was very honest & reasonable. If we need a plumber in the future we will call All About Rooter again. Highly recommended."
JMH in Spanaway, WA
---
5★★★★★ - "Jose came out at 7pm after already working a full day and stayed until midnight to fix our clogged septic line. He did everything he could but finally had to dig 3 feet down and 3 feet across in hard-pan to cut and clean out a section of pipe that had been improperly repaired in the past. My family thanks him and we highly recommend his work to anyone. He has skill and integrity."
Scott Newbern in Eatonville, WA
---
Call for an Estimate
---