Bathtub Plumbing in University Place, WA
Trouble with your University Place Bathtub Plumbing?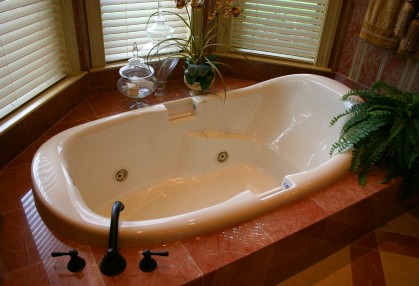 At All About Rooter LLC, we've seen our fair share of University Place Washington bathtubs, and we've seen every possible problem they can have. Let us take the expertise we've gained since for 19 years and make it work for you.
Do you have a foul odor coming from your bathtub drain? You likely need a new trap, which is a component of bathtub pipes that keeps the sewage smell from wafting out of the tub drain. On the other hand, if your University Place bathtub is clogged, we may need some more troubleshooting. Bathtub drains become clogged with everything from dirt and hair to mineral deposits. Rest assured, when the University Place bathtub experts at All About Rooter LLC have spotted the problem, we'll waste no time fixing it.
One problem many people face with University Place plumbers is unprofessional service. Many of these plumbers think that since you've hired them to fix your University Place bathtub, you need them and you don't have any other choice. You do have options, though... and your best choice is to call All About Rooter LLC. We're grateful to our community for keeping us in business for 19 years, and we express our gratitude through friendly service.
If you need 24/7 University Place WA bathtub service, let us help at any time. Whether it's too early in the morning or too late at night, we at All About Rooter LLC always make ourselves available to our customers.
All About Rooter LLC is a team of University Place WA bathtub experts who can fix your faucet, drain, clogged pipes, or anything else. Just call us at (253) 200-1643 as soon as possible for a free estimate!
---
WHAT CUSTOMERS ARE SAYING:
5 ★★★★★ - "Found company online, and after reading others reviews, knew I had made the right choice. Jose was courteous, and very helpful in offering advice to prevent future sewer backups. Will definitely call again. THANKS!"
Hiram Kamalu in University Place, WA
---
"They were professional, fast to respond and finished the job quickly. The labor costs seemed to be high but I don't do plumbing so it is what it is."
Richard H., Plumbing in University Place, WA
---
5★★★★★ - "Jose came out at 7pm after already working a full day and stayed until midnight to fix our clogged septic line. He did everything he could but finally had to dig 3 feet down and 3 feet across in hard-pan to cut and clean out a section of pipe that had been improperly repaired in the past. My family thanks him and we highly recommend his work to anyone. He has skill and integrity."
Scott Newbern in Eatonville, WA
---
5★★★★★ - "Our experience with All About Rooter and Jose could not have been better. Jose came out to our house within 24 hours of me giving him a call. He immediately went to work. Found my issue to the full stoppage of sewer in my house, foresight was a 5 foot long root in my pipes. Jose gave me a reasonable quote and stuck as close to it as he could knowing money is tight. He had the whole job down in a day basically. The longest part was waiting for the city to approve everything since he had to replace about 5 foot of PVC pipe 7 feet beneath my drive way. After everything was said and done, my drive was patched and I could use water in the house we purchased. Fun fact, I called Jose on a Sunday panicking about a water leak and he was ready to come Monday morning. Luckily we got it figured out before then. Jose and All About Rooter will not let you down."
KEVIN ONEILL in Spanaway, WA
---
Call for an Estimate
---